AG Kügler: Mechanisms of protein aggregation in neurodegenerative diseases / Gene therapy for Parkinson´s disease
Team Leader
Dr.

Sebastian Kügler
phone:

+ 49 - 551 - 39 8351 (office)

fax:

+ 49 - 551 - 39 14476

e-mail:
phone:

+ 49 - 551 - 39 14475 (PostDocs / students office)

phone:

+ 49 - 551 - 39 14473 (lab)

mail:

Sebastian Kügler, Ph.D.
University Medicine Göttingen, Dept. of Neurology
Viral Vectors Lab, Waldweg 33
37073 Göttingen, Germany

Web:
Main research interests:
According to the "Consensus document on European brain research" (Olesen et al, J Neurol Neurosurg Psychiatry 77, 2006) the socio-economic burden of diseases affecting the human brain is estimated to constitute 35% of all EU disease burden. Demographic changes in ageing societies of the EU will increase this rate considerably and this will represent a crucial challenge to forthcoming generations. Therefore there is a very serious demand for evaluating mechanisms and principles of CNS disorders and also to develop novel therapeutic strategies.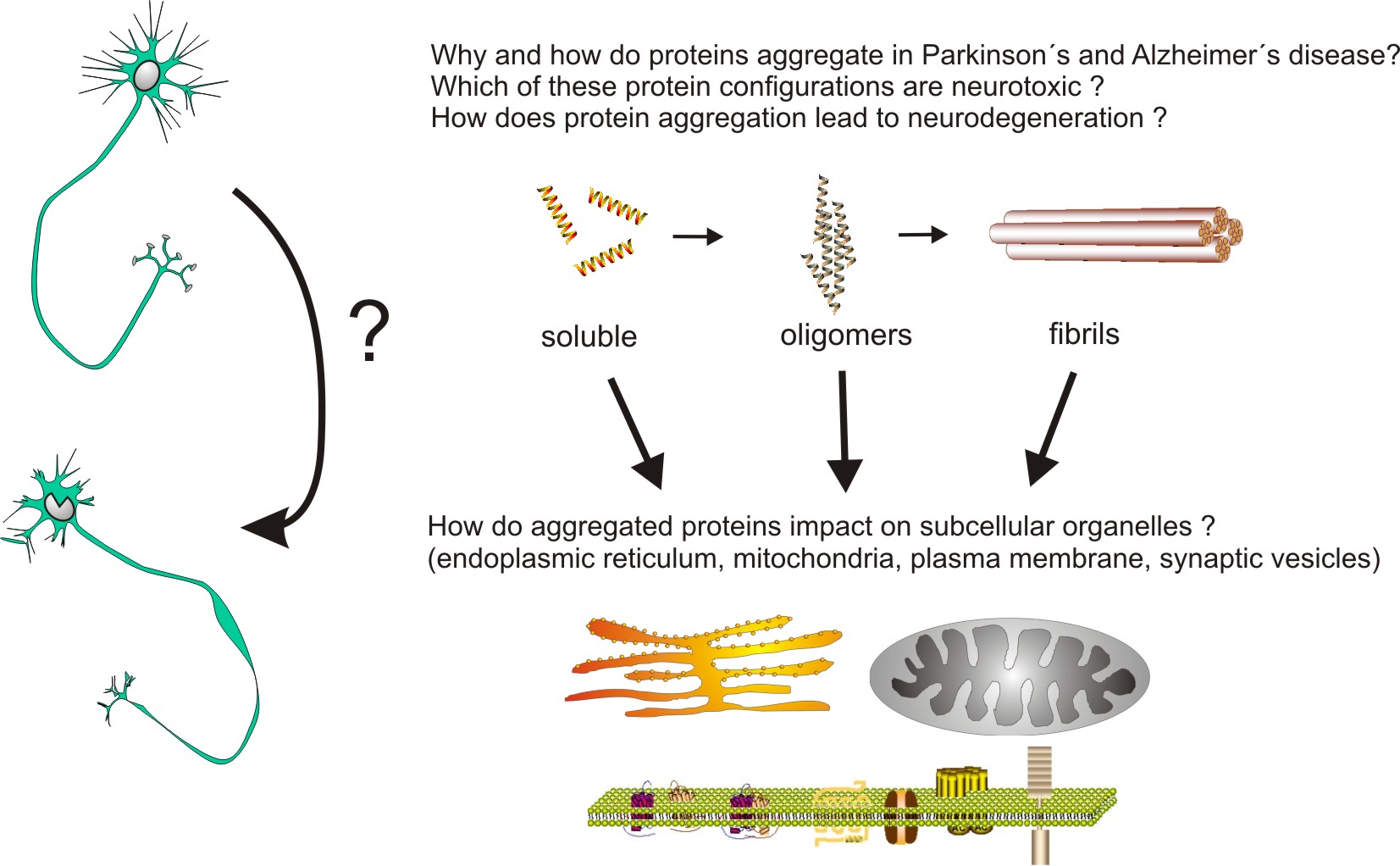 To elucidate brain pathophysiology we use viral vector mediated transgenesis of selected brain cell populations to understand, for example, the impact of miss-folded proteins like aSynuclein, Tau and Aß, or we make use of vector-driven RNA-interference to influence neuronal defence mechanisms. Currently, a major focus is on intravital imaging by 2-photon microscopy, which allows to visualize brain cells, their degeneration and the neuroprotective potential of novel therapeutics in the living brain longitudinally. Adeno-associated viral vectors (AAVs) of different serotypes and with different promoters are used to express disease-related proteins and fluorescent labels (for structural labelling) or fluorescent sensor proteins (for functional labelling) in the rodent brain. We can label a variety of brain cell types and sub-cellular organelles, and rapid recording of 3D-ZStacks is achieved within only several minutes. Such experiments allow to study the living brain with reduced efforts in animal experimentation.

In terms of gene therapy we are developing regulated AAV vectors towards clinical applicability. These advanced tools allow turning on and off the expression of curative transgenes (e.g. of neurotrophic factors) as an essential safety feature. Recent evidences suggest that neurotrophic factor gene therapy can be effective only if applied early after diagnosis of PD, at times when patients would still respond properly to L-DOPA substitution therapy. We feel that regulatable vectors are necessary to convince authorities that gene therapy for patients in very early disease stages is acceptable.
After almost 2 decades of experience with CNS gene transfer and neurodegeneration models, we have assembled a comprehensive portfolio of viral vector based tools, neuroprotective strategies, gene therapy applications in pre-clinical models and fluorescent sensors for readout of physiological parameters.
The picture below demonstrates some further examples of how we used adeno-associated virus mediated gene transfer into cultured primary neurons, the substantia nigra of the rat brain, organotypic rat brain slices, songbird and primate brain.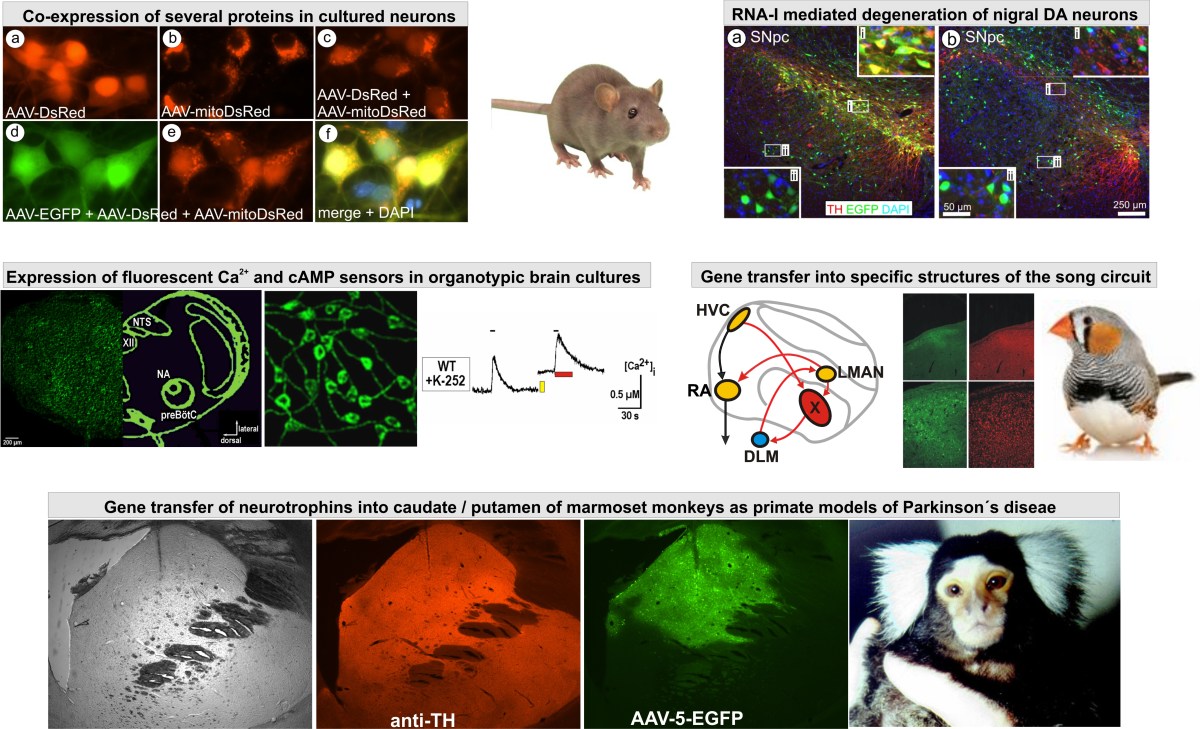 Selected Recent Publications
Search complete listing on PubMed
The Team